Sjaantje's National Accolades


"2013 USEF National Friesian Driving Champion
Horse of the Year"
"2013 IFSHA Friesian Driving Horse of the Year"
"2013 ADS Friesian Open Pleasure Driving Single Hitch Horse of the Year"
"2013 ADS Friesian Open Combined Driving Event Single Horse of the Year"

"2013 FHANA keuring 1st Premium and Crown Mare title"
"2013 FHANA Dream Gait Friesians Driving IBOP Cup [81.5 score]"
"2013 IFSHA Grand Nationals Champion Carriage Driving Costume & Obstacles Amateur & Open"
"2013 IFSHA Region 2 Champion Carriage Turnout Amateur & Open & Period Costume"
"2013 IFSHA Region 5 Champion Carriage Turnout, Period Costume, & Drive & Ride"
"2012 KFPS/FHANA 1st Driving Predicate Title Outside of the Netherlands"
"
2012 USEF National Friesian Driving Reserve Champion
Horse of the Year"
"2012 USEF Region 2
Friesian Driving Champion
Horse of the Year"

"2011 USEF National Friesian Driving Champion
Horse of the Year"
"2011 IFSHA
Grand Nationals Champion Carriage Driving Working Single Amateur & Open"
"2009 IFSHA World Champion Jr mare & Jr carriage; National Champion Carriage"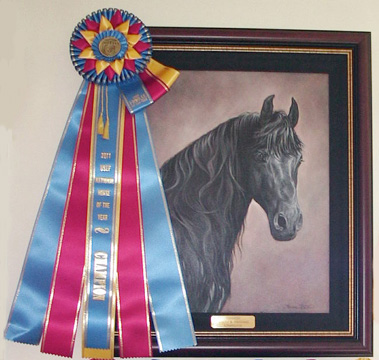 Sjaantje Sport, Crown
2011 & 2013 USEF National Champion Friesian Driving
Horse of the Year
Teresa Reuter portrait


Click on the crystal bowl

Sjaantje's 2011 IFSHA

Anita Mellott

High Point Driving Award



2012 USEF Region 2
Championship Ribbons

In 2012 our 7 YO Sjaantje earned all her FPS/FHANA driving predicate points, making her the first Friesian outside of the Netherlands to do so! Scores & points
Sjaantje was imported from the Netherlands with the help of Rick & Ellen of Pleasant View Friesians as the foal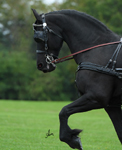 part of my 3 in 1 package in 2005 when I retired from a teaching career. She is registered with both FHANA [the Friesian Horse Association of North America] and the Dutch FPS [Friesch Paarden-Stamboek (Friesian studbook)], which is the world-wide authority on the Friesian horse and recognized as the European Mother Studbook of the Friesian Horse.
Sired by Tsjerk, her dam, "Wietske Janke V, is a "ster" Ritse Friesian mare. When Sjaantje arrived here at Dreams Come True Farm, she was still nursing. See her pedigree.
In her yearling year, as she grew, we thought that her foal 3e did not do her justice, so we took her to the 2005 Coatesville Keuring where she earned a 2e and the admiration of the crowd. From then on Sjaantje only improved in beauty, conformation, and movement. In January of 2008, she went to Swiegart's Stable for a few months, where Brook started her driving, came home that summer, so I could get her started under saddle and hand walk her as keuring prep, and then went back to Sweigart's for 3 weeks of tune up for her 3 YO keur. I had been successfully using Parelli Natural Horsemanship techniques, and although I rode bareback as a child, now being 57 YO myself, I could not envision myself riding w/o a saddle, as the Parelli advocates do, but had been toying with the idea. My dear friend, Gloria, who also had a young Friesian mare that needed to be started, provided the example and the encouragement, so we spent the summer of 2008 successfully starting our young Friesian mares w/o saddles!
In 2008 Sjaantje was keured at Leesburg, VA, and when she was awarded her 2nd Premium, the judges said she was the prettiest and best built mare there! In 2009, Sjaantje was professionally trained to drive, so went to several shows, earning her first World and National Titles at the IFSHA show in St Louis. In 2010 Thomas and I showed her in the east, trying out different shows with Friesian divisions. In 2011 Suzy Stafford trained Sjaantje for the driven IBOP test and gave me a weekly driving lesson, making 2011 the year of driving for Sjaantje. Attesting to her driving ability, Sjaantje won 3 national driving championships and 3 reserve national driving championships at the 2011 IFSHA World Championships Show in Lexington, VA, earning her the coveted Anita Mellott High Point Driving Horse Award for that show. Sjaantje had so many fabulous driving performances in 2011 that in January 13, 2012 Thomas and I attended the United States Equestrian Federation Banquet in Cincinatti, OH, to accept Sjaantje's 2011 USEF Friesian Driving Horse of the Year Award. In March we went to Lexington, KY for FHANA's AGM and to receive my FHANA 2011 Performance Driver Award.
In 2012 Sjaantje was once again given the opportunity to use her talents to shine in the driving community: Suzy trained Sjaantje for the FEI # 9 driven dressage test, earned 10 points from satisfactory scores, and she became the first horse in North America to successfully obtain the KFPS/FHANA driving predicate title "Sport." Driven dressage was all new for me, so it was yet another excellent Friesian adventure!
Sjaantje won the 2013 Devon County Fair & Horse Show Single Horse Championship under the auspices of her trainer, Suzy Stafford in May. In June she earned 3 IFSHA Region 5 championships and 2 reserve championships with our most memorable one being Drive & Ride with myself driving and Jodi Van Sprang riding. In July Sjaantje and I were the Novice Whip Champions at the Morven Park 1st Annual ADS Carriage Fest, winning Turnout, Working, and Reinsmanship. The end of July, we won our first CDE, after winning training level dressage and making marathon times at the Ohio CDE. In August we won 3 IFSHA Region 2 championships and 3 reserve championships. At the NY State Fair Show on Labor Day weekend we had a driving and a riding championship. Sjaantje was the high point single horse champion at the September My Ladys of the Manor Driving Club show. At the IFSHA Grand Nationals she had 4 national championships and 3 reserve championships. Our last show of the season, the Union Bridge carriage show, we won both Open Working and Reinsmanship and had seconds in the two cones classes, for the Open Horse Championship and the Show Championship.
Sjaantje's 2013 keuring was phenomenal: she had FHANA's highest driving IBOP score, her 2nd premium was replaced with a 1st premium, and she given a Crown mare title.
Bred in 2014 for a 2015 sape foal, she didn't show those years, but did we ever in 2016! We wintered and showed in Florida and came home and showed up north. Because her showing was so stellar, she was a 2016 USEF Horse of Honor and inducted into the Horse Hall of Fame in 2017.
Bred again in 2017, her 2018 Sape colt is a keeper., so we'll see in Hamilton can follow in his momma's hoof prints. Her brilliance in driven dressage earned me the ADS blue and bronze medals and in 2018 we earned 2 of the 4 scores for our silver.